Vending Machine is a structure that appears on every location. Its appearance depends on cave types. It allows the purchase of some items with gold, and allow the exchange of emerald into gold.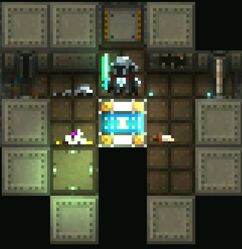 5x5 tiles
A purchase tile located at the bottom-left coner inside
Guarded by:

Caves and Acid Caves: Ninja Robots, Robots
Lava Caves: 2-4 demon cyborgs

1-3 gate exits
Goods sold:
Page

Slot

Item

Page 1
1
Melee weapon
2
Melee weapon
3
Regular Armor Plate
Page 2
4
Bombs, rare Weapons
5
Variant Armor Plate
6
Variant Armor Plate
Page 3
7
Bombs
8
Ammo, Bombs
9
1 emerald to 3 gold
Page 4
10
Map Scanner, Teleporter, Supply Beacon,

Plasma Charge, Electric Charge

11
Health Crystal
12
Energy Crystal, Resurrection Crystal
Blueprint of Survivor
Blueprint of Haze
Community content is available under
CC-BY-SA
unless otherwise noted.